The Tales of Wayward Buggies
Recently I got the urge to put pen to paper again and, on reflection, I attempted to discern why I agreed to embark on this path in the first place. To be honest, I have lost too many brain cells in the interim and am at a loss to conjure up a plausible answer. When push comes to shove, it's not that important. I have enjoyed the process and hopefully you have had a few chuckles with me.
In one of my earlier dissertations I said, "If there is any interest in this subject (golf course photography) and Jeff Shelley - Cybergolf's editorial director - doesn't burn this manuscript, I would very much enjoy sharing with you stories of flipping a golf cart upside down in a bunker in Hawaii, freeing a cart from an icy path in Oregon, and getting a cart stuck in the ocean bordering Mexico."
Well, maybe it is time to elucidate on some of my earlier promises. I said I would talk about some of my escapades while traversing the course in a "buggy" . . . an Irish excuse for not walking. The history of golf is replete with the benefits of walking as opposed to slobbering around in a power cart while attempting to locate your long-lost $3 projectile. As much as I enjoy the ambulatory tradition, I find it a little easier on the system to ride while working.
In hindsight, I recall photographing one of the world's most celebrated courses without the benefit of a little mobile comfort. I was informed that I would not have access to a buggy, as it would do damage to the terrain. What about all of those other machines that were keeping the course nicely manicured; were they floating on air?
When photographing a golf course you have a limited amount of time to accomplish your assignment. The sun waits for no man or woman. Chasing the sun on foot is a futile exercise. Nevertheless, with camera equipment, tripod, a spam sandwich and a Lucozade in my backpack, I got the job done. It's not easy traversing a course with 40 pounds on your back, new golf shoes, and two hours to walk 18 holes. And you wonder why I succumb to a cold libation on occasion.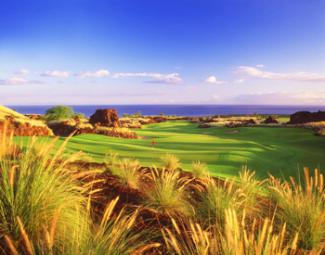 10th Hole at Kukio
Kuki'o is a beautiful Tom Fazio-designed course in Kailua, Kona, on the island of Hawaii. In the neighborhood you have Hualalai, The Weiskopf, and Nanea. These are courses with pretty serious pedigrees. Several years ago I had the good fortune to be commissioned to photograph Kuki'o. I spent the better part of five days on the property and felt good about the results. On the final day, I had a few hours before departure and thought I would see if I could squeeze a few more images out of the course. On my final pass I decided to traverse it backwards. Bad mistake - and a lesson well learned.
Sand traps are designed to be seen from the tee box, not the green. Charging down the 15th fairway in the opposite direction with the throttle wide open, I floated over a wee knoll only to hear myself scream "Oh S@%t!" With my eyeballs now as large as pineapples, I slammed on the brakes and, in the morning dew, I proceeded to execute two perfectly symmetrical 360s, all the time accompanied by an ever-increasing high-pitched "Holy S@%t!"
Before I knew it, I am doing a slow-motion helicopter maneuver over the bright silica sand. Problem was, my launch angle was not very level, resulting in a mouthful of turf and warm sand for breakfast. The top of the cart had sheared off, and what was left was sitting on top of me. Camera equipment was strewn throughout the bunker and a stream of blood was spurting from my right thigh.
Enough of the gore, the only real damage was to the canopy of the cart and my shattered ego. A quick call to the superintendent and maintenance crew towed the cart out of the trap. Some sod was replaced, the bunker was raked, and all was good as new. On the way to the airport the superintendent called to make sure I was still in one piece. Nice gesture, but I am sure he was happy to see this one-man wrecking crew leaving the place. He informed me that his staff had affectionately named me "Flipper" in honor of my double-gainer into the sand trap. Nice.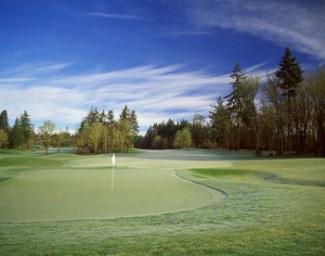 8th Hole at Pumpkin Ridge (Ghost Creek)
Far from the majestic Hawaiian splendor and balmy ocean breezes is the scene of one of my finest "mind-over-matter" achievements. Many years ago I was hired by a Los Angeles ad agency to shoot an annual report for a large golf management company. One of the courses I was required to photograph was Pumpkin Ridge, just outside Portland, Ore. I had just one day to get a couple of images and weather was a factor. Slim pickins in the afternoon, and the forecast for the a.m. shoot was cold and frosty. Sure enough, it was real chilly and icy. But no worries as I had fortified my system the night before with nature's finest antifreeze: lovely Irish whisky.
Flying around the course searching for my next masterpiece, I hit an ice patch and slid off the cart path and onto the fairway. Once I came to rest and regained my composure, I attempted to get back on the path. No such luck. The more the rear wheels spun in the soggy terrain, the deeper they sunk into their own tracks. Realizing forward momentum was not an option I got out off my mud-splattered buggy. After a while it was obvious: I needed some traction. I collected some twigs and small rocks from the surrounds and strategically formed a path towards dry land.
That helped advance the cart a few feet in the right direction but left me short of a full escape. Next, I used the sand from the divot-filling containers. Brilliant! Now we are moving, but still a little short of terra firma. If I could just get a couple more feet I would be back on the path. Another flash of ingenuity, I sacrificed the two green towels that came with the cart. Yes sir, home-free.
Finally back on the cart path, I realized there were a couple of feet of ice between myself and the dry road. Now I'm a little concerned because the sun was getting a bit high in the sky and I still needed a few images. With this new sense of urgency I knew I had to find a solution and quickly. I tried to think rationally: "The reason I cannot extricate myself from this situation is because of the ice. If I could just find a way to melt the ice I would be on my way." The coffee was long gone and no help was in sight.
Suddenly, it dawned on me. I DID have something warm at my disposal. After a quick look over my shoulder, I whipped out "Bishop Fagan" and sprayed the icy tundra. No sooner had the ice diluted after the still-warm Irish whisky hit the pavement than I was back in the buggy, carefully edging it to freedom. I welled up with a sense of pride and achievement. I actually solved a problem with my bare hands and a few tools at my disposal. This momentary flash of genius allowed me to laugh all the way to the airport.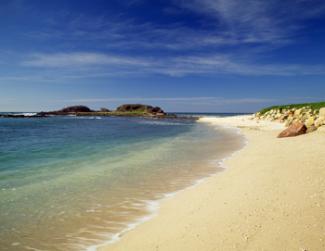 Punta Mita's Tale of the Whale


South of the border, 45 minutes north of Puerto Vallarta, you will find Punta Mita. A Jack Nicklaus-designed course, it is on the northern tip of Bahía de Banderas - one of the world's largest natural bays. Within strolling distance is the beautifully appointed and ideally located Four Seasons Resort nestled in an idyllic little cove. It is the perfect place to have a romantic interlude with either your wife or mistress, preferably the one that plays golf.

Before the course opened I was hired to create some images for their advance-marketing collateral. Punta Mita is famous for its extra green (Tail of the Whale), a par-3 that sits approximately 200 yards out in the ocean on a tiny island. When the tide is out you can drive your buggy out to the green. When I got there, the makeshift cobblestone path was a little under water but I figured no big deal. Right!
Did I mention that I had a hole-in-one on that course just the day before? Yep. Two hundred and 10 yards slightly downhill par-3 struck with unerring accuracy with my Ping Persimmon 5-wood (A.K.A. the Billy Boru). Thankfully, the only witness was the director of golf (saved a few pesos there) who was my playing partner. We had a few "shorts" that night in downtown Puerto Vallarta to celebrate. But I digress.
Intoxicated by the stunning beauty of the location, I inadvertently managed to get the buggy stuck in some rather wet, deep sand. Picture a golf cart being devoured by quicksand and you get the idea. One is overcome by all sorts of emotions when faced with the fact that you have just done something very stupid and exercised a severe lack of judgment. Irish-Catholic guilt will be the death of me.
Wallowing in self-pity and loathing myself for screwing up, I spotted a young man ambling up the beach. Not sure whether he was heading to work or dragging himself home from a night of debauchery, I beckoned him to come hither. With a few misguided Spanish words, simple gesticulations began the process, but waving a $20 bill in his face clinched the deal. Fast forward 15 minutes and all is good. I was drained, he was thrilled and thankfully the sun never came out from behind the clouds. The guilt of not getting some work done would have killed me.
Are there any lessons to be learned from these yarns? But of course. There is a fine line between genius and stupidity. Realize that they are separated only by moments in time. Enjoy the reflection and try to avoid the actuality. I have no idea what that means but I think it would look great on a T-shirt.
Did I ever tell you about the time I was in Ireland and the sprinkler went off under the buggy? Well, this huge gush of water jettisoned itself into the undercarriage of the buggy with such voluminous force that I about soiled my . . . Oh sorry, maybe another time.